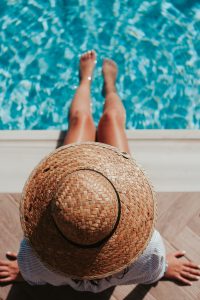 If you sat at home munching on bon bons and binge watching Netflix, just to realize that in a few weeks you'll be going back outside and even to the beach, it's time to start to get ready for summer/ While it's already here, it's not too late to salvage some of the fun in the sun. There's still a few months of beautiful weather and you could look and feel fabulous to end the season in glory.
Set your goals first.
Unless you write down your goals and make them specific, you only have a wish list in your head. How much weight do you want to lose? Do you want to just tone your body? Are you hoping to boost your energy to have more fun in the summer. Once you identify your goals, you can start a program with the steps to achieve them. How much weight do you hope to lose a week and for how long. What are you going to do to lose that weight? If you have a personal trainer, he or she will help you work on the how, with healthy eating and exercise programs designed to get you to your destination.
No matter what your summer goal, healthy eating should be part of it.
Looking and feeling great describes what most people hope to achieve. They want a higher level of energy, a sleek, toned body and good health. Whether it's weight loss, building muscle tissue or boosting your energy, you need good nutrition and that comes from eating whole foods and cutting back on refined, processed or sugary food. Just making those changes can put you on the path to good health.
Stick with your workout program.
You can lose weight and get healthy by combining a healthy diet with a program of exercise. Both of these need to be part of your healthy lifestyle. That's why creating a consistent appointment time for exercise is important. It becomes part of your life and a no brainer. Your appointment with the gym is just as important as any other appointment, even the annual checkup, because it helps you stay healthier.
Eating healthier is easier if you plan meals ahead, do shopping once a week—after you ate—and making all meals on the weekend, so all you have to do is heat and serve.
If you want to save time, double recipes for meals made ahead and freeze for another week. Before you know it, you'll have a freezer stocked and can spend more time enjoying summer fun.
While working out at the gym is important to ensure you work all parts of the body, don't forget to include fun, yet active pastimes like bicycling, hiking or swimming. It's all about enjoying your fitness.
Always track your progress. If you have a trainer, he or she will do it for you, but if you're going it alone, you can do it several ways, such as weight, clothing size or health indicators like blood pressure.
For more information, contact us today at LIV Fitness