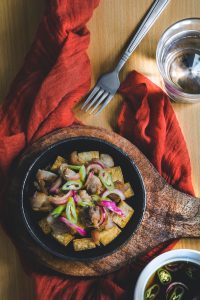 You might not think that a one dish meal could have all the nutrients you need, but maybe you've never tried a Buddha bowl. Here in Dublin, CA you can buy them from a retail business and even have them delivered to your home. They're called by many names but they're one-dish meals that include roasted vegetables, greens, a protein—whether beans, meat, tofu, lentils or fish—and a whole grain or rice. More recently, they've been associated with a vegetarian style meal. The key is that they contain a healthy balanced combination of all the nutrients you need during the day.
Try a vegetarian Buddha or protein bowl.
These healthy style of meals don't have to be in a bowl or be vegetarian, but often people associate it with a vegetarian lifestyle. The combination is half of the plate strictly vegetables, a quarter is a grain style carb and finally, the last quarter is a protein. The vegetarian protein can be tofu, chickpeas, beans, almonds, quinoa and etc. You can create any combination of vegetables. In fact, some of my clients use left over veggies from the night before and roast them. Others use fresh vegetables. Choose a healthy grain, like brown rice for the final bowl component and then add a dressing if you want. The dressing can tie the whole thing together. It should be a healthy combination of a good fat, such as tahini, avocado, flaxseed oil or extra virgin olive oil and for flavor, your favorite vinegar, lemon juice or lime juice, plus herbs and spices if you choose.
For those non-vegetarians, switching out the vegetarian protein for animal protein is all it takes.
In fact, some people choose to have both, cutting back on their animal protein intake, but still getting the flavor. You can use chicken, fish, shrimp, eggs, beef, lamb, crab or turkey. Any type of protein is good. Just make sure it's prepared in a healthy manner. Putting deep fried food into a healthy dish defeats its purpose.
It's all about preparation and planning ahead.
This type of meal is quick, but you have to plan ahead. If you have a number of cooked ingredients, cook them ahead of time. For rice or quinoa, boil in the bag or microwavable options make it faster. I've made a double batch of rice and then simply reheated it in the microwave as needed. Cut vegetables and cook or roast those you want cooked, then store separately. If you're adding boiled eggs, boil them ahead of time. The key is to have all the ingredients ready so it just takes warming and assembly when you're ready to eat, making it faster than waiting in line for fast food.
It's a salad, too. You can start with leafy greens and then add the other hot or cold ingredients.
You can use frozen vegetables rather than fresh, if you want less preparation time or to save money. They're just as fresh as the ones in the market, since the nutrients are locked in when they're frozen.
Buddha bowls are great ways to make meal time simple, experiment with flavors and even save money. You can use leftovers and those last bits that would otherwise sit in your refrigerator until they're unrecognizable.
You can make a thick creamy dressing by processing half an avocado with olive oil, cilantro or other herb, lime, minced garlic and a little salt and pepper or a Mrs Dash style substitute.
For more information, contact us today at LIV Fitness