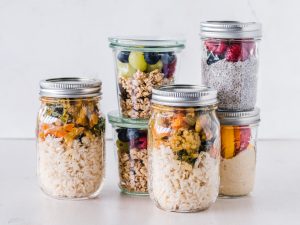 You don't have to be a client at LIV Fitness in Livermore, CA, to understand it takes a healthy lifestyle, not just exercise, to be your fittest. Adequate sleep, plenty of hydration, and a healthy diet are other factors to help you be your best. Focusing on healthier eating is easier when you start meal planning. It saves you time and once you get into the swing of things, is faster than carryout meals. You simply heat and eat the preprepared meals.
Spend a night planning meals, one shopping, and the weekend cooking.
Spend one night creating a meal for the following week. Make sure you use food leftover from one meal in another meal. For instance, if you bake a whole chicken, serve the baked chicken one night, make chicken salad, a chicken casserole, and chicken vegetable soup for other meals. You won't have leftovers because they'll all be in meals planned for the week. List all ingredients necessary and shop all at one time after you've eaten so snack foods aren't part of your purchases. While cooking all meals at once sounds difficult, it isn't. It takes less time since you use many ingredients for several meals, and everything cooks simultaneously.
You don't have to spend all day cooking, just do double duty when you're cooking regular meals.
You can use a multicooker, stovetop, oven, microwave, and slow cooker all at the same time to reduce the time spent in the kitchen. A lot of time spent is the actual process of food being baked, broiled, or boiled and time spent in the oven or stovetop. You can shorten the time by immediately prepping vegetables and fruit when you get home from the grocery. Cook two dishes in the oven at the same time, too.
We can make it easier.
When you use the LIV app, we cut meal planning time in half. We create menus for you and even a shopping list. If you don't like one dish recommended, switch it out for one you do. We also create a shopping list for you. Check your cupboards to see if you have the ingredients, and if you do, delete it from the list. It prevents waste and saves money. The meals are created for your needs, whether you're lactose intolerant or want anti-aging meals.
Double up the recipes and freeze the extra meals. You can take a week off, have food ready for emergencies or busy weeks, or have meals for unexpected guests at dinner.
Meal planning includes creating healthy snacks. Having cantaloupe cut up and ready to eat, or homemade healthy trail mix that's ready in a pinch when you need a boost of energy between meals.
Opt for in-season fruits and vegetables to save even more money. If you have a local farmers' market or a roadside stand with homegrown organic vegetables close, include it in your shopping trip.
Package food in serving sizes, so there's no question at mealtime. It saves money by eliminating waste and helps with portion control. It's ready to heat and eat. It's faster than sitting in a drive-through line and far more nutritious.
For more information, contact us today at LIV Fitness