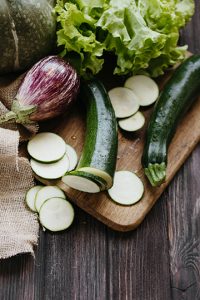 This is the perfect time of year for clean eating. It's summer and many fresh fruits and vegetables are inexpensive. It's one of the best times to start clean eating, but what is it? Eating clean means choosing foods that aren't highly processed, choosing fresh, frozen or canned foods with no additives. It's eating green, which means eating foods that are fresh and colorful, not just green. Clean eating also includes eating lean meat that's cooked in a healthy way.
Clean eating is about more about what you don't eat than just what you eat.
Natural food has many health benefits. The key is to make sure you get variety. It's about eating whole foods and passing on highly processed foods like sugary treats and processed meats. That means your Danish and hot dog simply won't make the cut for this type of eating. While you don't have to eat all fresh foods, it does make it easier to control the ingredients in your food. If you opt for frozen or canned, read the labels carefully.
Watch out for those sauces and condiments.
You may love ketchup on your burger, but ketchup contains high amounts of sugar and isn't necessarily healthy. Aside from the tomatoes or tomato concentrate being the primary ingredient, the next one is usually sugar. Rather than using ketchup when you're eating clean, why not try some homemade salsa or just tomatoes. Eat more real foods, rather than processed ones or convenience foods.
You don't have to give up meat to eat clean, just eat more plant based foods.
Have a meatless Monday and choose beans and rice for a main dish or make your protein source peas, lentils, quinoa, buckwheat or barley—high protein whole grains. Steering clear of sugar is hard at first, but well worth it in the end. You'll find all food tastes better once you do. In fact, a parfait made of Greek yogurt mixed with mashed banana and layered with ripe black cherries, berries or other fruit and nuts, seeds or wheat germ can be delicious.
Eating clean can be quite inexpensive when you choose season foods and read labels closely. Frozen vegetables and fruit with nothing added often has more nutrients than fresh, since they're ripe and frozen immediately after picking.
Eating clean means eating healthy snacks, too. Have healthy snacks ready, like fresh fruits and vegetables cleaned and chopped in the refrigerator or making snack bags of nuts or trail mix ahead.
When you start eating healthy, track the foods your family likes the best so you have a list of your favorite meals on file and ready to go.
Meal planning and prep can make eating healthy easier. We provide menus and meal plans that include recipes you can make on the weekend and just heat and serve during the week. It saves money by ensuring you'll use leftovers and use all the groceries you purchase.
For more information, contact us today at LIV Fitness